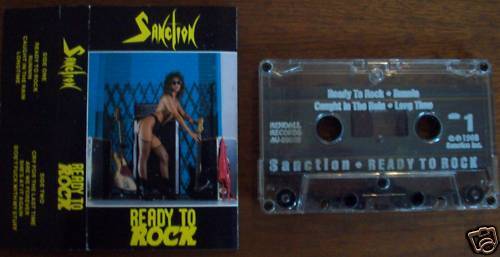 SANCTION - 1988 - Ready To Rock
1. READY TO ROCK
2. RUNNIN'
3. CAUGHT IN THE RAIN
4. LONG TIME
5. CRY FOR THE LAST TIME
6. ARE WE FOREVER
7. SHE'S AT IT AGAIN
8. DON'T F**K WITH MY STUFF!
Quote:
SANCTION- "READY TO ROCK" CASSETTE. RELEASED ON RENDALL RECORDS 1988.
MEGA MEGA RARE RELEASE FROM HIALEAH, FLORIDA FEATURING VOCALIST JACK COBB,
GUITARIST EDDIE SMITH, BASSIST STEVE DIETRICH AND DRUMMER ROY SUBIRANA.
THIS BAND PLAYS RIPPIN' MELODIC METAL A'LA Y&T AND MARCHELLO WITH VAN
HALEN-STYLE ACROBATICS ON THE GUITAR! A MUST OWN FOR FANS OF MELODIC METAL!
45$