Schubert - (1994) Toilet Songs FLAC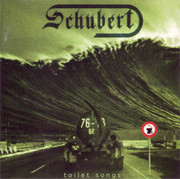 Tracklist:
1. Reflections Of The Past
2. Raindancer
3. (Intro: Yes To Jazz) I Hate Ken
4. In The Name Of Science
5. Cheek To Cheek
6. (Intro: Goijra Tai Mekalem) Better Splatter
7. Everything We're Passing Through
8. Locomotive Death
9. Positive
10. La Minchia Della Follia
11. Naked in the rain
12. Get us a room
13. Toilet song
14. Truth rap II
15. Keep me out
не понравился альбом, перепутал его с Toilet Reflections, вот и купил
Вообщем может кому-нибудь пригодится! Сканы, логи, куи, всё внутри.
Yadi