Нашел две кассетки на ебае
RAMPAGE - 1988 - S/T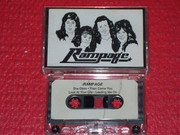 This looks to be a demo or something that was sold at gigs. There is no upc, no record label, no info about the band. The back of the liner has track list and 1988. Nothing on the inside of the liner. Band doesn't sound too bad. Typical sound of late 80's hair metal. Not very heavy, more like they were trying to get chicks. Kind of like Slaughter or Firehouse or Winger. This would be an awesome find for someone who knew this band was.
Picture is of actual item. Cassette is in very good condition. The paper pieces on the tape that list the tracks need to be glued back on but they are both there and in 1 piece. Tape plays good. Recording quality is pretty good for a demo or whatever this is.
Tracks:
1. Mary-Go-Round
2. Long Hard Road
3. Time To Get away
4. Piece Of The Pie
5. Jury's Still Out
6. She Does
7. Then Came You
8. Look At Your Life
9. Leading Me On
ebay 10.5$
---
Rampage - 1994 - My Mind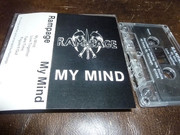 1. My Mind
2. Love Together
3. Take Time
4. Figure It Out
Quote:
This is for the My Mind 4 song DEMO TAPE by RAMPAGE from 1994.
CLASSIC AND RARE HARD ROCK/AOR DEMO FROM YAKIMA, WA BAND!!
25$ seller: thankshenry