добавлю в поиск альбом другой американской группы с таким же именем
Jaded Heart
JADED HEART (US, CA) - 1991 Demo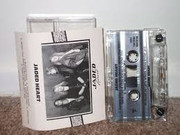 Tracks:
1. Burning Love
2. One Nite Stand
3. (When You) Need Some Love
4. Little Romeo
5. Other Side
6. Sweet Mindle ('90s Mix)
Quote:
JADED HEART were a FANTASTIC '80s-style hair metal band who hailed from Fresno, CA in the late '80s/early'90s!! This 6-song demo cassette (c1991) is VERY RARE and features classic '80s style melodic metal sh[list=][/list]owing influences from Dokken, White Lion, TNT and XYZ featuring fantastic vocals and blazing George-Lynch-style guitar work! Great songs, slick production and superb musicianship. Glossy fold-out J-card with band photo on front and tracklisting on back flap. Also comes with the original B&W 8"x10" promo photo of the band! Cassette is clear w/ very cool shiny chome-metallic tint w/ pro-typeset and in excellent condition. A Very Hard-to-find RARE Demo!!
ebay 73$, seller: bobn5074