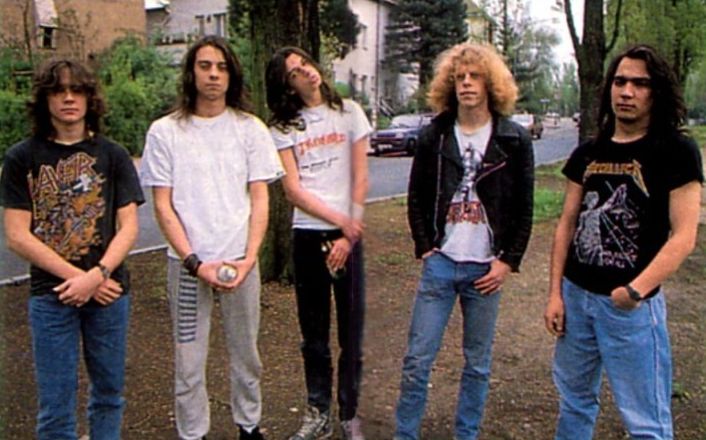 ......Ralf Herrberg............Uwe Wiese.....Jan Biermann.......Flying Fred..................Marinko Kalfic........
Decay was originally founded in 1985 as a high school band and split up in early 1992. The band recorded several demo tapes and appeared on the vinyl sampler "Multikulturelle Affaire" with the song "Sperrmüll" (1989, CBS/Sony, later Sony Music).

Decay played in clubs and festivals all over Germany and were a well-known underground independent thrash metal act. After they split, the founding members Flying Fred and Jan Biermann founded the Frankfurt alternative band Freezeebee in October 1992 which still exists to this day.
Дискография:
1. Decay - Skate or Decay 1988 (Demo)
1. Skate or Decay
2. Acid Kids
3. Warblind
4. Mitsh Rä Hep
5. Nymphomanic Reaction
6. Stolen Brains
7. Kamikaze
8. Persecution Mania
9. Empty Milchshake
2. Decay - Funtape 88 1988 (Demo)
No cover, no track list
3. Decay - Funtape 89 1989 (Demo)
No cover, no track list
4. Decay - Demo 90 1990 (Demo)
No cover, no track list
Ключевым является примечание к первой демке здесь
http://www.metal-archives.com/albums/De ... tabs_notes
Has another demo called "Funtape 88" on side B, that is originally written on the booklet. There are also copies featuring "Funtape 89" + "Demo 90" instead of "Funtape 88" on side B.
Получается для полной дискографии достаточно найти две кассеты:
1-ый вариант
(A)
Skate or Decay 1988 +
(B)
Funtape 88
2-ой вариант
(A)
Skate or Decay 1988 +
(B)
Funtape 89, Demo 90
от 128 и выше
message remastered by splatty