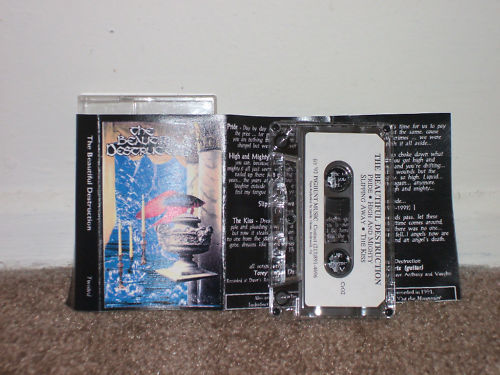 The Beautiful Destruction - S/T - 1992
This is one Kick-Ass LA Metal Demo! Little is known about this late '80s/early '90s underground LA Hair Metal band THE BEAUTIFUL DESTRUCTION, which is unfortunate because this band was first class '80s power/hair metal at its best! Mixing traditional metal, European-style power-prog metal and LA hair metal, this band was truly unique! This 4-song RARE 1992 demo contains very well-written melodic metal songs, fantastic musicianship (killer guitar riffs throughout and ultra-powerful vocals!) and a very solid production.
Great looking package with full-color fold out J-card with cool artwork, lyrics and credits. One-sided clear cassette with pro- typeset white label. In Excellent Condition!
Tracks
Pride
High And Mighty
Slipping Away
The Kiss
Band
Torey- Bass
Drew- Percussion
Vaughn- Vocals
Chris- Guitar
41$ seller: bobn5074