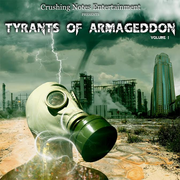 Tracklist:
1. AFFLIKTOR "Burn the Earth"
2. SOUL COLLECTOR "The Pledge"
3. TOXIK WALTZ "Octogenarian Violence"
4. INFRARED "T.O.C."
5. FUSION BOMB "The Masses' Breakfast"
6. VORBID "Garden of Departure"
7. FABULOUS DESASTER "Wellness in Hell"
8. TOXIC RUIN "Subterranean Terror"
9. ACRANIA "People of the Blaze"
10. CRIMSON SLAUGHTER "Dystopia"
Vol.1 features some of the best underground unsigned and signed Thrash/ Death Metal bands around the world. ​The featured bands are FABULOUS DESASTER-Germany, AFFLIKTOR-USA, TOXIK WALTZ-Spain, SOUL COLLECTOR-Poland, ACRANIA-Mexico, TOXIC RUIN-USA, FUSION BOMB-Luxembourg, INFRARED-Canada, CRIMSON SLAUGHTER-Spain and VORBID-Norway.
Хорошая трешевая сборка, мне почти всё понравилось. За рип спасибо большое уходит Лёне!

На диске есть косяк, в 6 песне с 06:27 музыка обрывается и присутствует 30 секунд тишины, потом песня идет дальше, но не с того же места..
Yadi