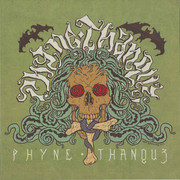 Band: Phyne Tanquz
Country: Scotland
Genre: NWOBHM
Release date: 02/11/2012
Label: High Roller Records
Format: Black Vynil 12"/10"
Barcode: 2090503774742
Catalog number: HRR0000263
Item ID: 377474
1. Phyne Thanquz Into The Sun
2. Phyne Thanquz Curse Of The Gods
3. Phyne Thanquz Bury Me Well
4. Phyne Thanquz Groove Track
5. Phyne Thanquz The Seedlings Of Something
6. Phyne Thanquz Down
7. Phyne Thanquz Bury Me Well (Live)
8. Dog - Read All About It
9. Dog - Set Me Free
10. Dog - The Prisoner
11. Dog - The Dead Walk Alone
12. Dog - Preacher Man
http://www.clear-spot.nl/item/377474/ph ... black.html
Into The Sun 7'' 1982 single (incluse in compilation)
http://www.youtube.com/watch?v=ZQZVZwdL924
Anybody can to share this great compilation for we doing a favour in a good sound format?
Thanks advance.