>
Осталось найти: | Still looking:
Yanxworth - 1990 - Great Planes
Yanxworth - 1993 Demo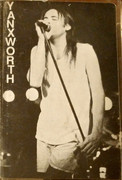 Yanxworth were an underground '80s hair metal band from Los Angeles from the late '80s / early '90s. A really unique 4-piece hair metal band mixing LA and European '80s metal, with a touch of '70s prog-rock elements (a bit of a early Queensryche on the track "Angelwhore"). The band features Paul Yanxworth (vocals, percussion), Stephen Gunn (guitars, bass), John Rizzo (guitars, bass) and Dave Quattrochi (drums). Great musicianship with strong, very unique songs. Good production to boot. Not sure if this band was too active in the LA club circuit back in the late '80s/early /'90s but they certainly have a great, professional sound and look (the three songs on this demo were written between 1988 - 1992). Very rare demo, for the true fans of LA '80s/'90s Metal!
Very professional B&W thick, glossy J-card autographed by guitarist Stephen Gunn. J-card includes live photos, lyrics to 3 songs and credits. Clear professional type-set cassette (tracks repeat reverse side).
Tracks
A Look Inside
The Devil's Disguise
Angelwhore
RARE 1993 DEMO FEATURING CLASSIC '80s EUROPEAN INFLUENCED LA PROG/HAIR-METAL!!
seller: bobn5074