P.O.W.E.R. - 1995 - The Making Of Machine
Label: World Reaction Records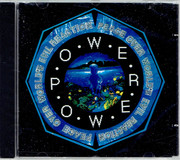 1. Amor Es un Juego
2. Tocar el Mundo
3. Esperar el Cielo
4. Memorias
5. Heroe
6. Hard Times
7. Touch the World
8. Heaven
9. Memories
10. Hero
11. Love & Fair Game
Personnel: Dee Dinco (vocals, guitar, wah-wah guitar, strings, electronics); Michael C. Dinco (vocals, strings, keyboards).
Recording information: Paul Hilton Studios, Van Nuys, CA; Record Way Studios, Granada Hills, CA.
Translator: Alfredo A. Lazo.
Quote:
Here's your chance to get an original CD called P.O.W.E.R. - The Making Of Machine. This rare 11 track CD was released in 1995 on a California indie label. This is perfectly played AOR/melodic hard rock with superb female and male harmony vocals. The production and musicianship are outstanding. It reminds for the first IMAGINE THIS CD and has more keys. The first 5 tracks are sung in Spanish and the last 6 tracks are sung in English. I HIGHLY RECOMMEND it. The CD and inserts are in mint condition.
ebay