Attachment:
NOBODY'S CHILD- 1991 Demo (RARE 80s LA HAIR METAL!).JPG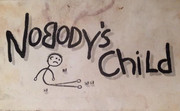 Nobody's Child (US) - 1991 - S/T
Band
Bradley Johnson- Bass
Greg Winton- Drums
Keith King- Vocals
Jeff Cory- Guitars
Rob Armstrong- Guitars
Tracks
1. Green River Doctor
2. Blue Island
3. Don't Tread On Me
4. Feel the Heat
Quote:
NOBODY'S CHILD were an amazing band from the late '80s/early '90s that hailed and performed around the Los Angeles area (San Bernadino/Orange County) and released this one fantastic 4-song demo tape in 1991. Sounding very much like early Skid Row (with vocalist Keith King sounding very reminiscent to Sebastian Bach!) with some melodic influence ala Dokken. Great band with incredible catchy '80s metal anthems and first rate musicianship and production.

Great package with fold-out glossy J-card with large B&W band photo and lyrics on inside J-card. Clear cassette w/ white typeset titles (tracks repeat on side two). This is classic '80s hair metal at it's best!!!
51$ seller: bobn5074