LYDIA VAN HUSTON (US) - Demos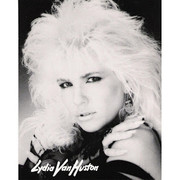 Quote:
Didn't know what to make of this tape until I researched it a bit. The music itself is truly killer.... typical, classic hair metal you's expect in 1987 to come from LA's Sunset Strip! But Lydia has a killer history and some sort of background in the porn industry. Her first recording was back in 1980 on the newly established Penthouse Records label (was she a Pet?). She kept working throughout the eighties, first as Lydia Van Houston (the band), then as Madame X. Reverting back to simply her name, this demo was recorded in 1987, just in time as metal was at its peak in Los Angeles. It was well received even though it features only two tracks, the galloping "Breakout" and the powerful "Toy Soldier" Which was leter re-recorded for a compilation called Tune Up. The sound was killer, polished melodic metal with lots of guitars, some fantastic keyboards and that great voice of Lydia. Forget Vixen who took exactly this sound to gold status.... Lydia was the real thing! She even had the world famous Jennifer Batten play guitar for her on "Toy Soldier". She was represented by Curt Lorraine, one of the best and very successful manager of the day. If you are into the LA scene and that Sunset Strip melodic metal sound, you will love this demo. Check it out!!!
18$
у киссмара на третьем блоге было вот это:
Lydia Van Huston - St. 1988/2008
. От этого тоже не откажусь.

(в суслике это нашлось у GYMFORMA

, с которого не стянешь ни хрена)
там же на ютубе еще три видюшки.