I'm looking for DC4 - explode
with former odin/armored saint guitarplayer Jeff Duncan & former Dio guitarplayer Rowan Robertson
Released through Chavis records in 2007.
Style: modern hardrock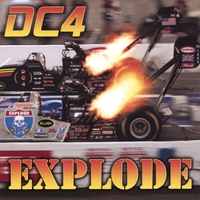 1.Explode 4:00
2.Rock And Roll Disease 3:46
3.Experiment 3:57
4.God Complex 3:57
5.Cabin Fever 3:39
6.This Is What You Wanted 5:54
7.Candy Caine 4:16
8.Long Hard Road To Lost 4:56
9.Disturbed 3:35
10.Hate Parade 3:57
Found a few links (on rapidshare and nnm.ru), but they all turned out dead. If anybody is willing to share a download i would very much appreciate this. Thanks anyway.